About Danish Startup Group
Danish Startup Group (DSG) is a non-profit organisation in Copenhagen. Our mission is to engage our members and community in variety of events, workshops and social networking opportunities within the Danish startup and entrepreneurial scene
⭐
Through our initiatives, we strive to provide valuable insights into the local and global startup environment and connecting them with like-minded peers, entrepreneurs and startups
⭐
What we do
Are you curious about the Danish startup environment? Do you want to meet and be inspired by other entrepreneurs in Denmark? and do you want to gain valuable insights and skills, in order to be prepared for upcoming startup challenges? then DSG is the right place for you! Together with our volunteers and supporters, we facilitate different startup activities and events for our members and the Danish community.
Workshops:

Learning about new technologies, building a website, apps, pitch trainings and other entrepreneurial skills

DSG On Tour:

Visiting Danish startups, in order to see, taste and feel their products and be inspired by their startup journeys, failures and success stories

DSG Talk:

Meeting other startup organisations, experts and gain valuable insights and learning opportunities through our seminars
"DSG is a great place to start, if you have a dream of becoming an entrepreneur"


- DSG Founders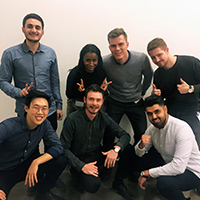 Meet our team
Danish Startup Group is driven by volunteers who spend their time to strengthen our Danish startup community. We can always use new energetic volunteers. Do you want to join our team?
Startup Advisors - They are here to help you.
Become A Volunteer
Would you like to help startups, gain work experiences or learn more about entrepreneurship? Then join our team. We can always use great people with greats hearts. As a volunteer, you will join our team and work with a diverse group of people with different backgrounds, including students, full-time employees and other international professionals. 

What can we offer:
Work experiences within a field of your own interest and choice
Free access to our events
Flexibility to switch roles or positions within the team
A place to learn and expand your CV 
Networking and access to many stakeholders in the Danish startup scene 
What we expect from you: 
You are independent and strong in communication with others 
Able to join our monthly team meetings
Able to deliver couple of hours per week to DSG related activities and tasks
You have an interest within startups or volunteering work
Not afraid to reach out, taking initiatives or ask for feedback
What Exactly Does A DSG Volunteer Do?
DSG Volunteers frequently engage in providing values to our members and the Danish startup community. Some of our main activities and tasks, depending on your role, might be to:
establish new collaborations with startups or other organisations/companies
manage, organise and deliver different DSG events, workshops and social activities
contact different danish startups and members to support and guide them
promote DSG within your network
lead a group of volunteers and project management
We are more than happy to have a more details conversation with you, if you are interested to be part of our team. Apply below and let us know!
Apply to be a Volunteer
If you are interested in being part of our team, please fill out the application form. Tell us your field of interests, and we will find a suitable role for you!