About Danish Startup Group
Danish Startup Group (DSG) is a non-profit organisation in Copenhagen. Our mission is to engage our members in variety of events, workshops, learning activities and social networking opportunities within the startup and entrepreneurial scene.
⭐
Through our events, we strive to provide our members valuable insights into the national and global startup environment and connecting them with like-minded peers from different universities, colleges and professions.
⭐
What we do
As a member of DSG, you will be offered a variety of activities and events, in order to prepare you for the challenges in an entrepreneurial environment. We provide you with great insights and the opportunity to meet different startup companies in Denmark. If you have a dream of becoming an entrepreneur or wish to learn more about the industry, DSG is the right place for you!
Workshops:

Introducing new digital tools, case solving, pitch training, and seminars.

Networking:

Expand your network with like-minded peers with similar interests. You might find your perfect team to initiate a startup.

Companies:

Meet interesting startup companies and gain valuable insights and learning opportunities.
"DSG is a great place to start, if you have a dream of becoming an entrepreneur in the future"


- DSG Founders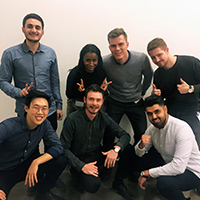 The team
Danish Startup Group is driven by a a team of eager volunteers who are all contributing and running the organisation. Do you want to become a DSG volunteer?
Become A Volunteer
Would you like to contribute, gain work experience, and collaborate with others like yourself who have a desire to accelerate your nation's development and promote entrepreneurship?
As a DSG Volunteer, you will make an important impact on our organisation while working alongside people from different backgrounds and professions, including other students and full-time employees. As a DSG Volunteer, you can share your knowledge, experiences, culture and bring an different understanding of the startup and entrepreneurial conditions.
DSG Volunteers are invaluable assets to the services we offer to our members, particularly at the event and management level where you must take in a great ownership of your responsibilities and tasks. Join us now and help your country move faster toward reaching new development goals, and support the dreamers of our nation.
What Exactly Does A DSG Volunteer Do?
DSG Volunteers frequently engage in providing values to our members. The types of activities in which Danish Startup Group Volunteers engage include:
Strengthening the current partner relationships and develop new collaborations with other interests for the benefits of our members.
Managing and executing different events, workshops, social activities and seminars for our members.
Encouraging national and local interest within the startup and entrepreneurial scene.
Promoting DSG and help us becoming the largest organisation within startup and entrepreneurship in Denmark.
The beauty of this is that the volunteers themselves gain life-changing experiences and enrich their own skills and expertise. Now that's a win-win situation! ?
Apply As A Volunteer
If you are interested in being a volunteer in DSG, please fill out the application formula. Tell us what you want to obtain experiences in, and we will find a suitable role for you!