About Danish Startup Group
Danish Startup Group (DSG) is an independent nonprofit startup organisation in Copenhagen. Our mission is to engage our members and startup enthusiasts in variety of events, insights and networking opportunities within the Danish startup ecosystem.
⭐
DSG was founded in 2017 with a purpose to promote early stage startups in Denmark and our ecosystem. An organisation driven by volunteers with different backgrounds to gain insights, experiences and meet local entrepreneurs.
⭐
What we do
Our amazing volunteers has since 2017 delivered their time and heart into the Danish startup ecosystem. Stil today, we are offering the below three main services to our members:
Events:

We gather relevant upcoming local events from the ecosystem to give you an overview of recommended startup events, workshops and networking opportunities.

Promotions:

We want to use our resources to help, support and promote early Danish startup through our SoMe channels, articles, podcast and event initiatives.

Connections:

We engage and collaborate with with many Danish companies and organisations. We can connect you with the relevant people, if we are not able to help you here in DSG.
"Volunteering is at the very core of being a human. No one has made it through life without someone else's help."


- DSG Founders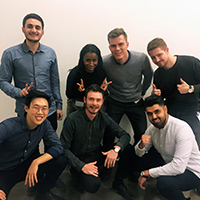 Become a volunteer or a mentor
Would you like to help startups, gain work experiences or learn more about entrepreneurship? Then join our team. We can always use great people with greats hearts, 

What can we offer:
Work experiences within a field of your own interest and choice
Flexibility to switch roles or positions within the team
A place to learn and expand your CV 
Networking and access to many stakeholders in the Danish startup ecosystem
What we expect from a volunteer
You are independent and strong in communication with others 
Mandatory to join our monthly team meetings
You can deliver 1-2 hours per week to DSG related activities and tasks
You have an interest within startups or volunteering work
Not afraid to reach out, taking initiatives or ask for feedback
A Mentor
As a DSG mentor, you are not expected to be involved in the daily work together with the rest of the team, but you are dedicated to support and help our members upon request within your own field of expertise. Your actions, as a mentor, might be to:
establish new connections to our members and startups within your own network. 
participate, in agreed meetings, for advice and mentoring
promto DSG, our members and startups
help and contribute to the general mangement team in DSG
We are happy to have a more details conversation with you, if you are interested to be part of our volunteering team or as a mentor. Apply below and let us know!